Fast Shipping

Web Price will not apply to store Price!

(973) 689-6442

Friendly Service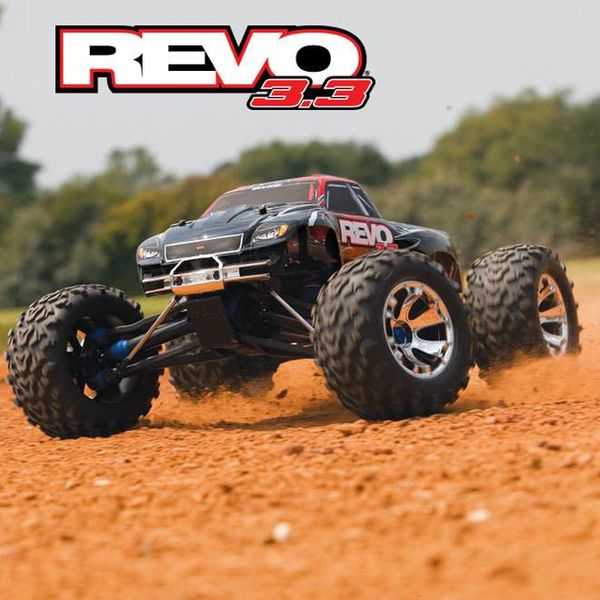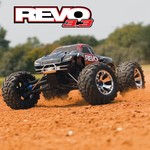 On-site Rock Crawling Track!

We repair what we sell!

Largest RC inventory in the N.E.

The only Hobby store with its Own Machine Shop!

Customer service 24/7

The best prices
Traxxas 3.3 revo i
Included:

TQi Radio System with Wireless Link Module
Revo 3.3 RTR Monster Truck with 3.3 Nitro Engine & EZ-Start
5-Cell Flat NiMH Receiver Battery 
6-Cell 7.2V 3000mAh EZ-Start Battery
2AMP DC Peak Charger
Full Color Owners Manual
Quality Tools
Long Trav
| | |
| --- | --- |
| Brand: | Traxxas |
| EAN: | 020334530905 |
| SKU: | TRA5309 |
| Stock: | 0 |
Description This is the Traxxas Revo 3.3 Ready-to-Run Nitro 4-Wheel Drive Radio Controlled Monster Truck with the TQi 2.4GHz Radio System with Bluetooth Wireless Module and Telemetry Sensors included! These are complete with the new high-performance 3.3 engine with a high-performance dual-chamber Resonator polished aluminum tuned pipe, EZ-Start 2 Electric Start System, TQi 2.4GHz transmitter (telemetry sensors included!), servos, receiver, 1200mAh 5-cell receiver battery, 7.2V 6-cell EZ-Start battery, DC charger, extra glow plug, and a fuel filler bottle. All you need is 4 AA batteries and fuel. The new Revo 3.3 is truly Ready-to-Race!

Monster innovation, monster versatility, and supreme size come together in the one truck that could only come from Traxxas. Now more than ever, the new Revo 3.3 defines what it means to be the pinnacle of monster truck performance, the standard bearer for cutting edge innovation and boundless capability that all others are measured against. The new Revo 3.3 is pure monster to its core with its massive presence, meaner gaze, and feature-rich capability. More importantly, Revo's advanced engineering equips it for fun, and the new Revo 3.3 delivers even more of it!

The World's Most Advanced Ready-To-Race Radio System Now Connects Wirelessly to the Traxxas Link App
The Traxxas TQi paired with the Traxxas Link app is the most advanced, feature-rich, Ready-to-Race radio system available. Now, TQi connects wirelessly to the latest Traxxas Link app for the ultimate in ease-of-use and control. The TQi radio system can be equipped with the Traxxas Link Wireless Module to unlock exciting features such as instant Bluetooth connectivity; access to the full range of powerful TQi tuning and telemetry tools through an intuitive high-definition graphical interface; and the ability to have a friend remotely monitor real-time telemetry while you focus on mashing the throttle. Your co-driver can even make adjustments for you, remotely, while you drive. No other radio system can do that. Just like the speed and performance Traxxas engineers into the vehicles, the power and capability of TQi and Traxxas Link expands your fun into all-new territory. Only from Traxxas, The Fastest Name in Radio Control.

Powerful Traxxas Link Application Available on Google Play and in the App Store
Traxxas Link App. Gone are the clunky controls and blocky monochrome graphics of yesterday's radio systems. This powerful app gives you complete control over the operation and tuning of your Traxxas radio controlled model with stunning visuals and absolute precision. Traxxas builds the world's fastest Ready-To-Race radio-controlled models. That level of performance demands precision control. Traxxas Link gives you the tools for exacting adjustment and superior control while always keeping you informed on your model's status and speed.

Factory-Installed Telemetry Sensors
Traxxas Link collects and records real-time telemetry data as you drive. When you equip your model with optional telemetry sensors, the Traxxas Link dashboard comes to life showing you speed, battery voltage, RPM, and temperature. The application automatically detects and recognizes Traxxas Link sensors for easy setup and configuration. The dashboard is fully customizable with either dial or digital readout gauges. Up to nine gauges can be displayed at once. Set threshold warnings and log maximums, minimums, or averages. Use the recording function to document your dashboard view, with sound, so that you can keep your eyes on your driving and not miss a single apex. If you forget to record, simply touch Instant Replay anytime to capture the previous minute of fun and unexpected triumphs. The recordings can be named and saved to compare, review, and share with friends.
0
stars based on
0
reviews